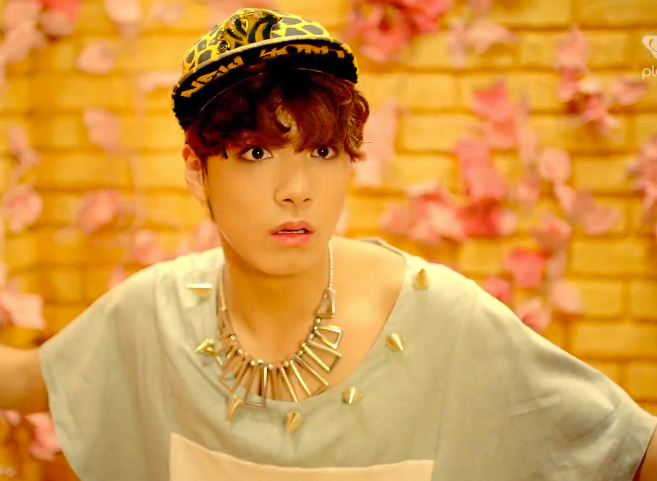 This week I investigate the trend for statement necklaces or as I like to call them mother cluckin' gigantic ones! This necklace modeled by one of the members of NU'EST was also spotted on Sulli from f(x).
Opulent, oversized necklaces with geometrical emphases were undoubtedly one of this summer's hottest trends! Everywhere you looked, there was a deliciously chunky necklace adorning someone's neck and bust; on Pinterest, in KPOP music videos, and walking down the runway! Unfortunately for us folk in the Southern Hemisphere, temperatures weren't warm enough to rock this trend. Doubtless, the odd fearless-fashionista gritted her teeth and sacrificed comfort for fashion, but the vast majority of us didn't even entertain the idea of exposing our necks, let alone go through with it! Thankfully, summer is just around the corner which means we can finally rid ourselves of those pesky scarves without fear of pneumonia. That's right, no more hiding beneath layers of fabric, it's time to slap on that t-shirt and bling bling!
That's all very well and good, but if you're like me and you find selecting jewelry really hard, then you aren't out of the doldrums just yet! I've always struggled picking out jewelry for myself. I'm worse than most because I aggressively double-check all my fashion choices, I analyse them to the point of insanity! You see, I consider myself a rather strange looking individual that has limited options when it comes to fashion, that's why my decisions go through a rigorous screening process. In my defence, it can be excruciatingly hard to find things that suit me and don't exaggerate my shortness! Another qualm I have is that I don't want pieces to swamp me, making me look like an afterthought. I want to be the master of the item and pull it off! There's nothing worse than being smothered in one's clothes and accessories, drowning in apparel is a fate worse than death! 
MAWI necklace, japanesestreets.com
However, despite these ever-present worries, I've decided that one shouldn't limit oneself! While these worries have some relevance, they shouldn't be taken too seriously. In reality, they're mere guidelines and can often be broken with little or no collateral damage! What I'm trying to say is that one doesn't have to stick to a narrow range of clothing, there's room for experimentation! If you like an audacious necklace but you're afraid it will look terrible on you, just go for it! You may be surprised to find that this necklace you hastily deemed as being inappropriate for your person, in fact looks swell on you! If it doesn't, what's the big deal? You have nothing to lose! Surprisingly, what made me realise that these worries are paltry, was a new haircut. People who knew teenage Patrick will remember that I spent high-school with very conservative locks! I never did anything exciting with my mop and I haven't since (expect this one time at university, when was compared to a skunk!) Since my tween years I've desperately wanted to go crazy and get a really gangster haircut, like corn braids or an afro. However, I've always hesitated due to self-confidence issues (I'm using corn-braids and afros as examples. I've never seriously considered getting them, I was just making a point OKAY!).
The other day when I was sitting in my trusted barber's chair, I decided to set these worries aside and get a line shaved along my natural parting! This small, innocuous act is actually the best thing I've ever done. To the average observer it's barely noticeable, but to me it represents a massive step towards being more comfortable and confident with my fashion choices. Now I feel like I could get a tattoo or a piercing without worrying about complexities!