If dictionaries had pictures, a full bleed image of Fiestar would accompany the entry on K-POP. The quintet is the living, breathing manifestation of the genre. Their releases marry the commercial with immense artistic flair and they upstage themselves with catchier, more creative pop songs, release after release. You're Pitiful continues the group's run of hits, revisiting the sexy concept they toyed with in 2014. Unlike the unashamedly suggestive One More a song about threesomes in hotel rooms, 'You're Pitiful' is melancholic. Angry over a boy who has broken their hearts, the girls sing about being 100% done. In K-POP, break up songs are a dime a dozen but 'You're Pitiful' sets itself apart with strong production.
In the opening bars, the door knocking makes the perfect entree to the wistful synths that form the skeleton of the piece. Reminiscent of the legendary post-chorus synths in Stellar's Mask, these portray the monotonous numbness of heartbreak through repetition. The glorious hook in the bridge leads to an equally memorable chorus with punchy vocals and an arrangement that is easy to sing along to even for non-Korean speakers. Visual Jei takes a brief timeout to let the group's rapper Yezi shine with a killer verse following the first chorus. Running off lines with slickness rivalling Miss Dr. Pepper her voice injects swag into the pretty song and makes the girl's grief that much more believable.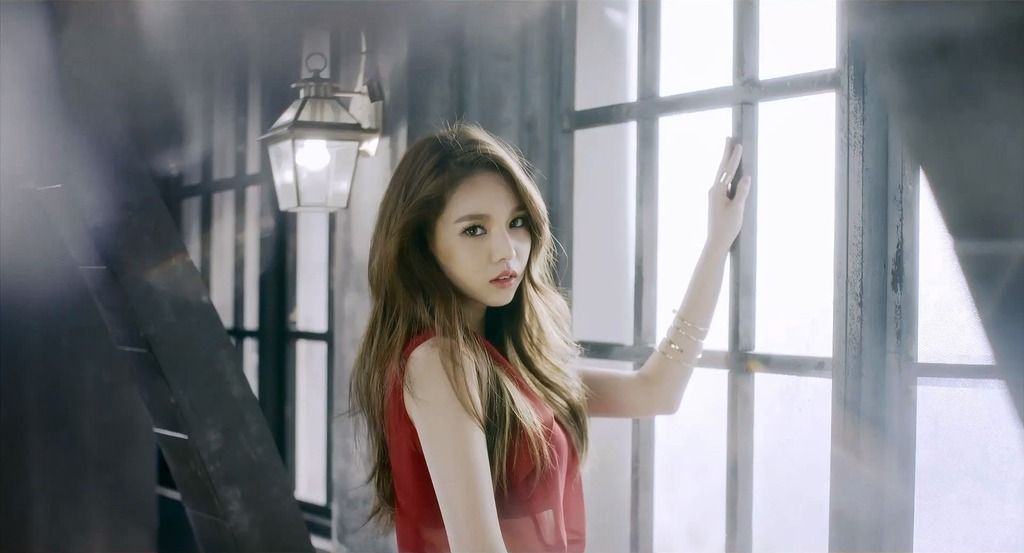 This music video snatches every wig and should be crowned best of the year. Produced by Tiger Cave, infamous for their penchant for symbolism, 'You're Pitiful' is bursting with thought-provoking imagery. Shots of ruby-like pomegranate seeds, raw meat, ominous thermometers and a flawless peep hole placement of Mauna Loa chocolates create a striking music video. The message may not be entirely obvious but this rich visual tapestry showcases the incredible creative talent wedged on the tiny spit of land between China and Japan. The gulf in quality between Korean pop and the rest is staggering – the West by comparison is creatively barren. This 3:57 minute video alone, is proof that South Korea is experiencing a cultural renaissance unrivalled in the 21st century.
Importantly, these are some of the prettiest girls in K-POP. Korea's Sarah Michelle Gellar Jei, serves Buffy realness with her blood-stained lips and brunette tresses and in one scene lounges in a room piled high with pot noodles and Tim-Tam packets. This may reflect her feelings of rejection, maybe she sees herself as a piece of rubbish thrown away by her ex, or it could just be an amazingly cost-effective method of creating visual interest with a medium-sized budget.
Despite the emphasis placed on the girl's bottoms, the choreography is Fiestar fierceness. Dancing on chairs is dangerous, factor in heels, you have a recipe for Grace Stomp Lady, but the girls pull it off, even in live performances.
This is a sophisticated comeback worthy of a first tier group. It's about time these girls have a real fiesta and receive the recognition they deserve. Let's hope they don't pull a EXID and PR their asses though, stay classy ladies.