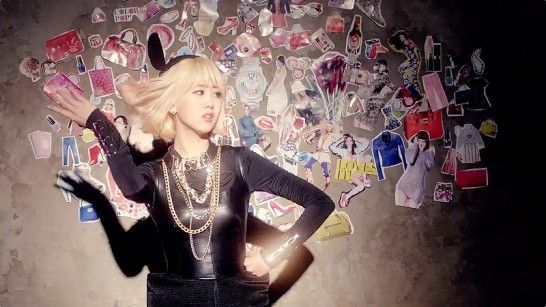 "You're goddamn right I'm fabulous" Yes, yes you are Hyeyeon. No-one's disputing that.

BESTie, the quartet coalesced from the cutoffs of one of the best girl-groups in KPOP, EXID, haven't had the best run with material thus far. First release 'Pitapat', was flawed and forgettable while 'Love Options', despite being a fan favourite and to some the KPOP industry's version of a B-Movie cult classic was cute enough but insanely boring. However, 'Thank you very much', their newest bop, has to some extent made up for these past offences. It's genuinely enjoyable and I'm not ashamed to say that I'm unabashedly in love.
As a whole, it's everything you've come to expect from a KPOP release – bubbly, cutesy, manufactured pop with an accompanying music video saturated with neon lens-flares, fluorescent furniture and one blonde, but it's much more than that. The song doesn't take the frequently overused and predictable route of describing a girl pining for the boy she fancies à la Hello Venus. No, it's a girly pop, breakup song that screams female independence. Collective sigh of relief. Instead of taking the sad route, the girls have decided to concentrate on the positives which is even better. Anger at their ex-boyfriends is brilliantly conveyed in the spunky verses, in a sing-song half-rap, half-singing delivery.